I made this shawl to use the some yarn I received from Hobbii. Initially, I didn't know what to make with it, but quickly decided to make a shawl because the yarn was light and airy and seemed like it was the perfect thing to make with it. At first, I was a little apprehensive about it because it's 4 unwound strands. I remember trying it one time in the past, and it was a little challenging for me. But this time was much better (I think because I had more experience crocheting this time around.) The strands change one color at a time, so the color change is very gradual. It's absolutely beautiful the way the color change happens.
I made 2 in the color Azurite. (I don't think this color is available anymore but there are lots of comparable colors.) The first one I made using the center pull. I'm not a big fan of center pull yarn because of the yarn barf that happens. I always end up having to spend some time untangling the yarn, which is annoying. With this particular colorway, if you use the center pull, then it goes from light to dark. And this is how it turned out.
The second one I made pulling the yarn from the outside to the inside. I like doing it this way better because there's no yarn barf and less tangles.
Here is what they look like side by side.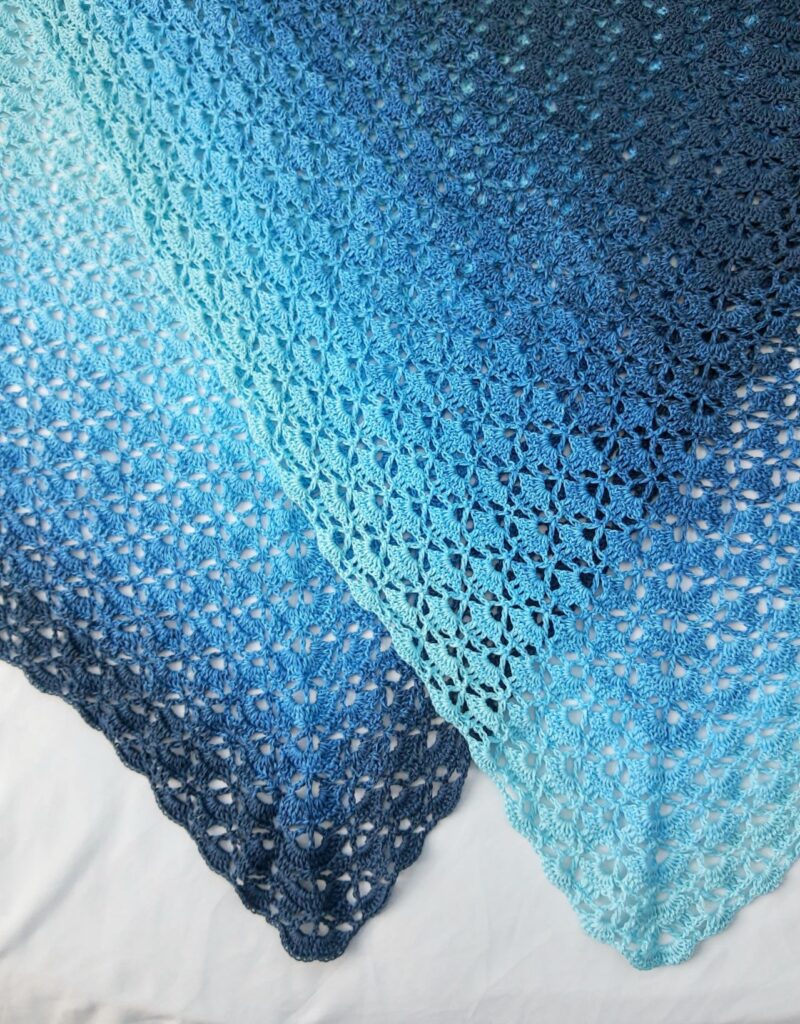 I prefer the one that goes from light to dark better, but both of them are gorgeous. To make them, I used a YouTube tutorial done by Sirin Crochet. It's called "Crochet Simple and Elegant Beginner Shawl." She also has the written pattern free on her site: Crochet Elegant Triangle Shawl Written Pattern – Sirin's Crochet (sirinscrochet.com). I used Cotton Kings yarn from Hobbii with a 3.25mm crochet hook.
For more scarf patterns, please click here.