The Serenity Baby Blanket is an easy crochet pattern that uses basic crochet stitches to create a beautiful blanket. It is also the perfect pattern to practice basic crochet stitches together because it uses sc, dc, hdc and slip sts. This was made with Lion Brand Basic Stitch Anti-pilling yarn in Ecru with a 4mm hook. It's a worsted weight yarn but I found it to be on the lighter side and wanted stitches to be tighter, so I went with a smaller hook. If you're using a different size yarn, just adjust the hook size according to the yarn and follow the instructions to create a blanket for your desired length and width.
FINISHED SIZE
Approx. 32.5″L x 31″W unblocked
GAUGE
15 double crochet stitches across and 6 rows = 4″
MATERIALS
5 skeins Lion Brand Basic Stitch in Ecru (or 925 yards of Worsted Weight yarn)
4 mm hook (or preferred hook size corresponding to the yarn's weight)
Yarn Needle
Scissors
ABBREVIATIONS (US TERMS)
sc = single crochet
hdc = half double crochet
tlo = third loop only
dc = double crochet
slp st(s) = slip stitch / stitches
st/sts = stitch/stitches
ch = chain
PATTERN NOTES
Instead of chaining 2 to begin a row, this pattern uses chain 1 and then dc/hdc directly in the first stitch. If you prefer to use the chain 3/2, then count that as the first hdc and start with hdc in the next st. Each row should have 24 stitches (or the same number of stitches).
This pattern uses half double crochet in the third loop only (hdc tlo). Instead of going under the top loops (#1), you'll go through a third loop on the side (#2).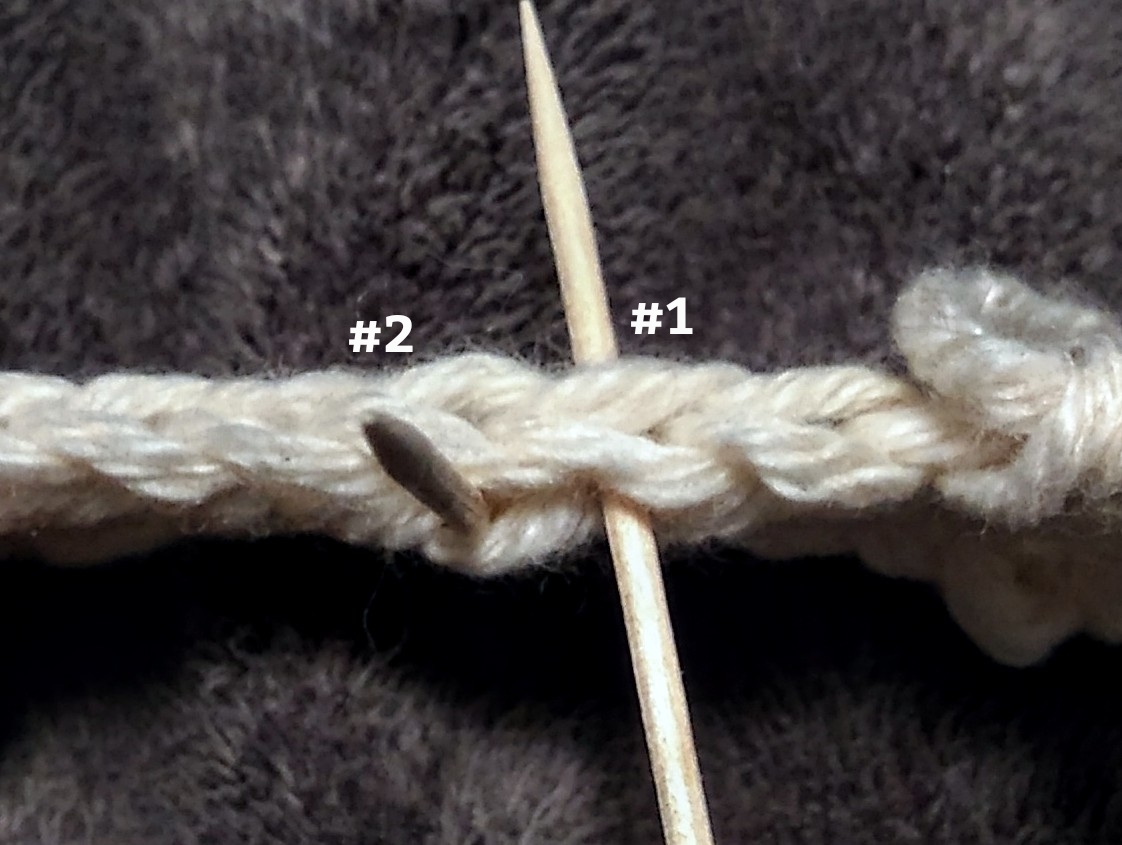 BLANKET PATTERN
Ch. 126 (or any multiple of 3 +2 +1), turn. (If you plan to do a simple sc, hdc, or dc border, then you can chain any number.)
Row 1: Sc in each st across. Ch 1, turn (125 sts – each row should have 125 sts).
Rows 2-3: Dc in each st across. Ch 1, turn.
Row 4: Hdc in each st across. Ch 1, turn.
Row 5: Hdc tlo in each st across. Ch 1, turn.
Row 6: Dc in each st across. Ch 2, turn.
Row 7: *Hdc in the first st, slp st in the next st,* repeat from * to * in each st across ending in hdc. (or 2 hdcs depending on your starting stitch count).
Rows 8 until the end: Repeat rows 2 thru 7 until you've reached an inch less than your desired length. Then do 2 rows of dc and ch 1 to start the border. (If you're doing round 3 border, the total rows should allow you to put sc stitches totaling a multiple of 3 + 2 + 1 on the side in rounds 1 and 2 of the border).
BORDER PATTERN
Rounds 1-2: SC in each st around, put 3 sc in the corners, ch 1. (If you're doing round 3, then the number of stitches on each side should be a multiple of 3 +2 + 1 corner st. (multiple of 3 + 3 corner sts))
Optional Round 3: Skip the 1st st. *Skip 1 st, dc in the next 2 sts, dc in the skipped st,* Repeat from * to * until the 2nd to last st. Skip the last st (which is the 1st st of the corner st), then put 3 dcs in the corner st* Repeat from * to * until you're back to the beginning of the round, slp st into the 1st st.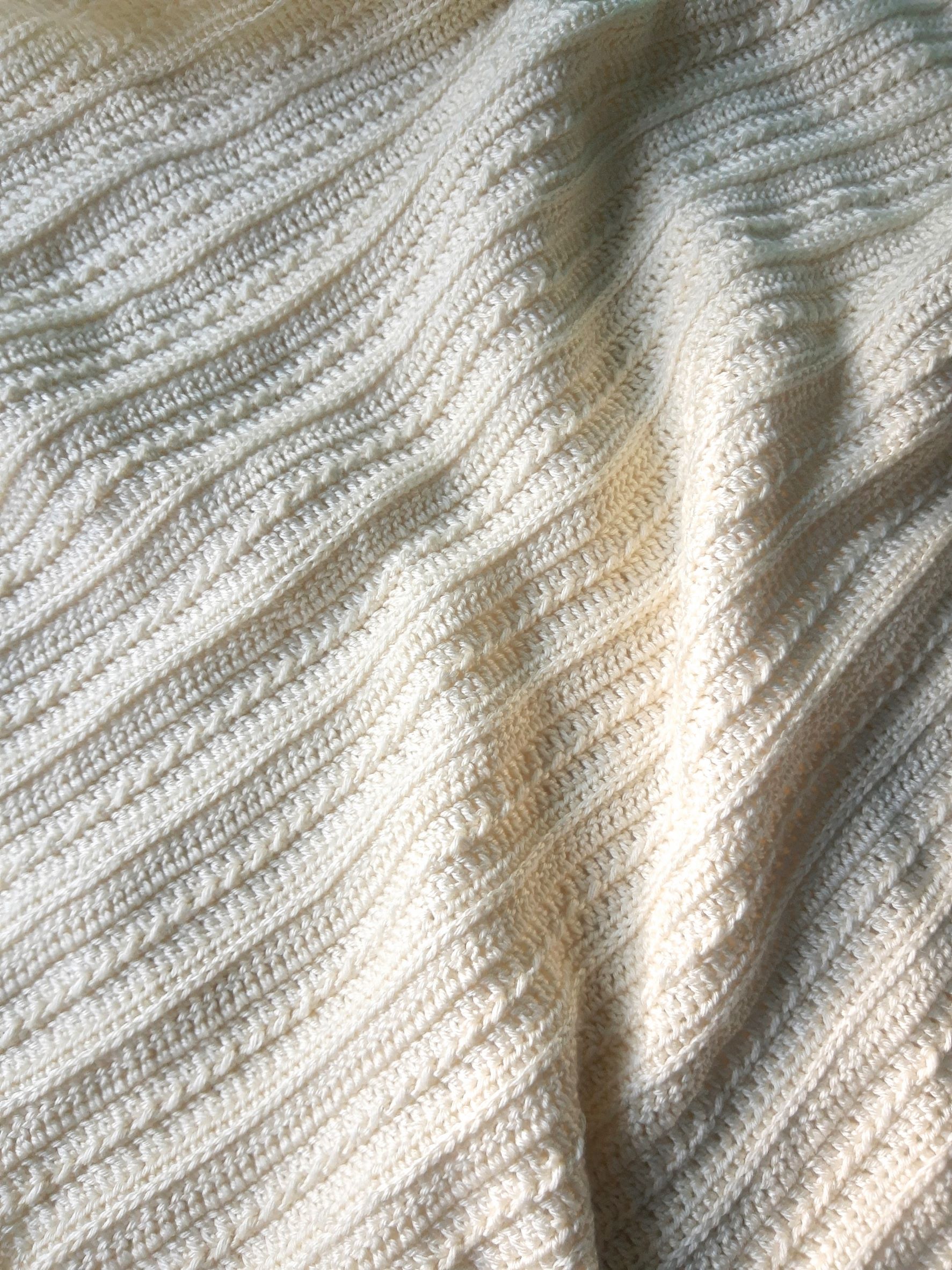 For more baby blanket patterns, click here.